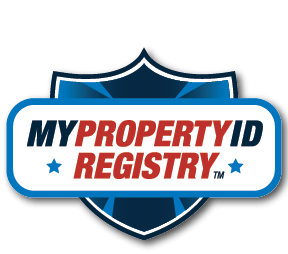 Home, farm and business security
Property protection system
Onetime-cost, no subscription
Works during storms and power loss
Helps the police solve crimes
SECURITY SYSTEM. LOST & FOUND.
Ongoing protection! Peace of mind!
Mail-order, DIY Tied to the Web for Global Access
No monthly costs! No subscriptions! No kidding!
For individuals, homeowners, small businesses and tiny municipalities
A strategy recommended by law enforcement professionals
You know how universities and libraries have commercial-grade ID labels on the back of every piece of equipment they own? Did you know there are entire departments dedicated to keeping track of everything? Governments, militaries, hospitals and corporations use this same approach. Through the power of the internet, we've shrunk it down for you. The strategy, among other things, reduces burglaries and thefts, and also acts as a lost & found. It is a system that dates back over 50 years that combines enterprise asset management with a currently recommended law enforcement strategy called Operation Identification. We've just made it easy and online.
What comes in your security kit
How you install it
Record serial numbers on your secure database
Post warning signs on doors, windows and vehicles
Adhere ID labels near the serial numbers of your items
As backup, print out a hard copy for your records
How your property is protected
Our crime-control strategy provides you with a secure, privacy-protected, web-enabled technique, designed to safeguard homes, vehicles, sheds, outbuildings, trailers and small businesses from break-ins by protecting the items you own that have serial numbers. The simple act of registering serial numbers, labeling property and posting warning signs, renders your valuables nearly useless to a thief for resale. It's a United States Department of Justice strategy, endorsed by the International Association of Chiefs of Police, the National Association of Sheriffs and the Federal Bureau of Investigation (FBI). It's designed for:
Cell phones, tablets, laptops, game systems, TVs
PCs, auxiliary hard drives, servers, printers, POSs
Handheld power tools such as saws and drills
Larger power tools such as table saws and power washers
Lawn mowers, leaf blowers, weed whackers, chainsaws
How our strategy works as a lost & found
A Good Samaritan enters your ID tag number on the our FOUND page. Because your privacy is protected by our secure database, our system will alert you by email that a person has found your lost or stolen item, but this process tells the sender nothing about you. This gives you options and keeps you in control.
How you are personally protected
Worst-Case Scenario: Even if the ID labels are removed, when you file a police report, it's the printout of the serial numbers on your privacy-protected database that get entered into the FBI's National Crime Information Center (NCIC).
Lost & Found: To protect your privacy, our system reveals nothing about you. If you lose a labeled piece of property, a Good Samaritan can alert you through our FOUND page, but they learn nothing about you unless you contact them.
Prevention: Burglars are much less likely to steal property if warning signs are posted and items are labeled and recorded like we all automatically do with motor vehicles.
First Officer On the Scene: If a law enforcement professional catches a thief red-handed with the ID labels affixed, the FOUND page can be an instantaneous tool to justify an arrest.
A pre-activated security system
Our product is a pre-activated security system for portable electronics, yard equipment and power tools. The unique ID tag numbers assigned to you are uploaded to your account the instant you place your order. Your security kit arrives in an envelope with those same numbers embedded in commercial-grade ID labels that are ready for immediate application. The system works without electronics or moving parts, but is tied to the internet for added features. This seemingly inconsequential advancement in the state-of-the-art has inspired us to file a provisional patent application.
Our recent press coverage
"If a potential burglar sees that we have an identity system in place, he/she will undoubtedly move on. It's a fraction of the cost of a burglar alarm system and much less annoying."
Facebook review 10/3/17
"The labels were easy to order, arrived in just a couple of days, and come in a variety of sizes to fit different items, but what I like best about the product is how easy it is to enter identifying information about the tagged items on the website."
Facebook review 8/18/17
"Amazing company, excellent customer service, brilliant idea! 5 stars."
Facebook review 8/11/17
"My ID tags arrived very quickly and worked just as described. I feel safer already."
Facebook review 4/10/17