Iowa-based
My Property ID Registry is a U.S. company based in Des Moines, Iowa. The business taps into the strong Midwestern values Iowans proudly represent. Nearly every contracting company is Iowa based. The conception, development, launch and ongoing operation of My Property ID Registry depends on these businesses. All of the people involved contributed their hard work, dedication, integrity and thoughtfulness to this project. My Property ID Registry thanks them and is proud to be a part of a great tradition. Made in the U.S.A.
About the developer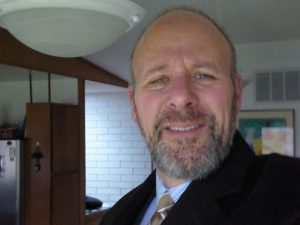 Jon Shelness has lived in central Iowa for nearly 30 years. He grew up in the rural outskirts of New York City in Lewisboro, New York, and graduated from high school in Davis, California. Upon graduation, he took a cross-country road trip that included Iowa. He moved permanently to the Des Moines area in 1990 from the Upper East Side of Manhattan Island in New York City, embracing Iowa, its people and its values. During his years in Iowa, he has lived on farm acreages, in small towns, and now in Des Moines. He's even "pulled" a calf.
Jon initially worked in the printing industry, and as a photographer and writer. In later years, he received his bachelor's degree from Iowa State University in order to continue a 15-year career working with at-risk youth and juvenile offenders. In 2013, he was recognized by the Iowa chapter of the National Association of Social Workers for his innovative work with delinquent youth.
As Jon continued his education through graduate classes in criminal justice and public administration, a number of insights took him in a new direction. Jon's family, friends, career, education and volunteerism—combined with his desire to contribute to society in a meaningful way—is the inspiration that has led to the development of My Property ID Registry.
In the event you are a victim of burglary or theft
In an emergency, dial 911.
One way to help the police is to simply make a report. It is thought that upwards of half of all burglaries go unreported. Think of burglaries as being a gateway crime that can lead to something more serious. In today's law enforcement environment, reported crimes are fed into databases that examine trends and patterns. By aiding the police, you may be assisting in solving a string of crimes.
Have a copy of your MyPropertyIDRegistry.com inventory sheet available. Be prepared to also email your inventory sheet to law enforcement.
Being burglarized is no fun and you are likely a bit rattled. Calling the police is more than just filling in a report. Law enforcement also assesses the damage and gives advice on next steps. Maybe your keys are gone or a door can't be secured. Law enforcement is there to settle the situation and make suggestions.

In the event you lose or misplace a piece of property
We take your security seriously and want you to be reunited with your property safely.
If you receive an email notification about your missing piece of property and you decide to retrieve it yourself from a third party, please be cautious.
When in doubt, involve law enforcement.
When meeting someone remember to:
Insist on meeting in a public place like a store, café or bank.
Never invite strangers to your home.
Do not meet in a secluded place.
Tell a friend or family member where you are going. Better yet, ask someone to accompany you.
Take your cell phone with you.
Trust your judgement. If you are unsure about your safety, leave.
Taking simple precautions can protect you and your property.