What size plan do you need? Pick the one that's right for you.
You can always buy more tags later. They will be added to your online account.
Onetime flat fee. No monthly charges. No hidden costs. Shipping included. No kidding!
All plans provide 24/7 access to your database and the lost & found system. Help desk support is available by phone, but you must begin with an email to Response1@MyPropertyIDRegistry.com
Note: If you are gifting this to someone, you must use the gift option, otherwise the plan will be tied to you. Just as you would with a car, it is very important to have property registered to the rightful owner.
Important: Look for this envelope in the mail. For national security purposes, the front of all envelopes arriving at your home or business are photographed by the United States Postal Service (USPS). Use Informed Delivery to check the status of your order. After ten days, if you do not see a record in the USPS Informed Delivery system, please forward your order confirmation email to Response1@MyPropertyIDRegistry.com.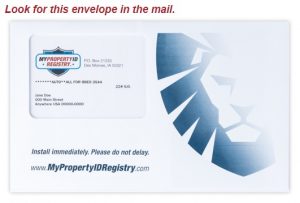 Personal Plan
10 ID tags for items such as

Cell phone

Key ring and fob

Laptop

Tablet

Gaming equipment

TV

Computer

Computer monitor

10 total tags
7 warning signs
$3.90 per ID tag
Personal Plan Plus
20 ID tags for items such as

Previous list plus

Additional cell phones

More key rings and fobs

Large and small TVs

Bikes

Printers

Computer and monitor

Yard equipment

20 total tags
8 warning signs
$2.95 per ID Tag
Family Plan
50 ID tags for items such as

Previous list plus

Home office equipment

Lawn mowers

Snow blower

4-wheelers

Outdoor grill

Outdoor audio visual items

Portable power tools

50 total tags
11 warning signs
$2.18 per ID tag
Business Plan
100 ID tags for items such as

Previous list plus

Audio visual equipment

Multiple laptops

Multiple tablets

Multiple cell phones

Multiple printers

Key rings and fobs

Out building contents

100 total tags
16 warning signs
$1.89 per ID tag
GIFT: Personal Plan
10 ID tags for items such as

Cell phone

Key ring and fob

Laptop

Tablet

Gaming equipment

TV

Computer

Computer monitor

10 total tags
7 warning signs
$3.90 per ID tag