Finding your Dell serial number can be confusing. The term serial number is so widely accepted, it's surprising when large corporations deviate from the term, especially as concerns consumer products. But there you go. Dell calls it the Service Tag.
The Service Tag is the Serial Number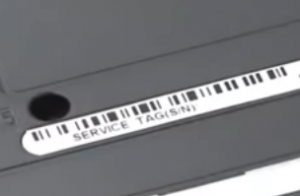 This two-and-a-half minute (2:30) YouTube video, produced by Dell, explains that the 7-character, alphanumeric, Service-Tag string is the serial number (S/N). https://www.youtube.com/watch?v=sDPVSHHN-SY
The Express Service Code Is a Serial Number, Too
At one point in the video (1:20), the narrator says that the Express Service Code is "basically your 11-digit serial number," too. So, the Service Tag and the Express Service Code will both work as serial numbers.
Keep a Record of Both
It appears that the Service Tag is the primary serial number, but the Express Service Code will work as well. You can enter either on the Dell support page to learn more about your specific device. At My Property ID Registry, we recommend you keep a record of both. https://www.dell.com/support